News and Information
Welcome to the district news section! You can view current and archived news items by selecting a location, month and year via the drop-down menus below.
Hilton CSD proudly inducts three graduates into Alumni Hall of Fame
Hilton Central School District welcomed three Hilton High School graduates into the Alumni Hall of Fame on Sept. 30.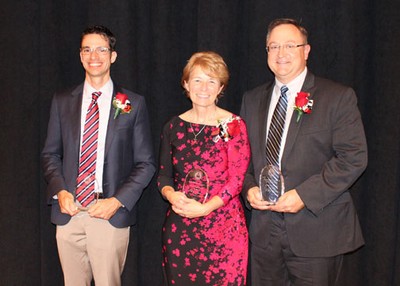 This year's inductees are: Mrs. Ruth Herne Blodgett '72, award-winning author; Darren Lipomi, Ph.D. '01, associate professor, Dept. of NanoEngineering, University of California, San Diego; and Lieutenant Colonel Kyle D. Mullen '85, United States Air Force.

The inductees took part in a full day of activities at Hilton High School, including speaking to classes, enjoying a luncheon with family and district administrators, being announced at the Homecoming Pep Rally, speaking at the induction ceremony itself followed by a community reception, taking part in the Homecoming parade and participating in the coin toss at the Homecoming football game.

"I told students today, 'you can follow your dreams and you can do it along multiple paths," said Blodgett. She described her life growing up in poverty and shared a message that her older brother, Terry, had given her as a child. "Do not let your environment control you; you control it."

Mrs. Blodgett realized her dream of becoming a published author after raising six children and working two jobs. She received her first publishing contract on June 9, 2009 and still has the editor's message on her voicemail as it signifies the culmination of decades of hope and hard work. Mrs. Blodgett's first book, Winter's End, was featured in Women's World magazine and quickly sold out. As the popularity of her work grew, Mrs. Blodgett's literary agent was able to garner her contracts with multiple publishing houses, including Harper Collins, Harlequin, Franciscan Media, Gilead Publishing, St. Martin's Press and Penguin/Random House. She has been nominated for multiple literary awards, including the Christy Award, the Holt Medallion and the Carol Award. With well over a million books in print, Mrs. Blodgett is currently under contract with five publishers. Her books are uplifting and portray "life-learned lessons," where taking the high road always leads to the correct path. Mrs. Blodgett attributes her writing talent to her mother and uses her mother's name in her pen name – Ruth Logan Herne.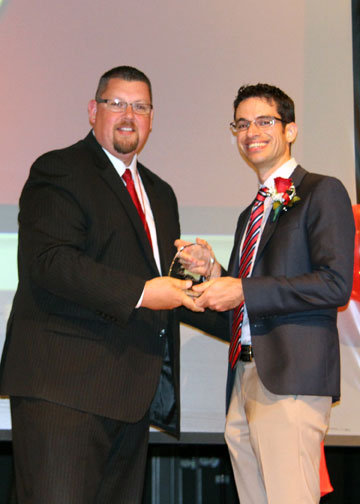 Dr. Lipomi said it was his experience in band throughout his years at Hilton that really helped him to develop a motivation to study hard and earn good grades. "In music, if you showed up to class and hadn't practiced, it was immediately evident," he said. Dr. Lipomi also credited his participation in the REACH gifted and talented program as preparing him for his future studies as a Ph.D. student.

After graduating Hilton High School, Dr. Lipomi went on to earn a B.A. in chemistry from Boston University, where he graduated summa cum laude. From there he earned a Ph.D. in chemistry from Harvard University under an American Chemical Society Graduate Fellowship. He has also earned a business certificate and done post-doctoral work at Stanford University. Dr. Lipomi is a leading innovator in "life-like" electronic materials for solar energy harvesting as well as wearable and implantable health monitors. His work aims to create a new class of semiconducting polymers that have properties inspired by biological tissue: extreme elasticity, biodegradability, the ability to self-heal, and sensitivity to a range of chemical, biological, mechanical and optical signals. At the age of 33, Dr. Lipomi has authored 52 peer-reviewed publications, is an inventor on five patents and has garnered $3.2M in federal research funding, including a $2.2M grant from the National Institutes of Health.

Lieutenant Colonel Mullen earned a Bachelor of Science in Aeronautical/Astronautical Engineering from Purdue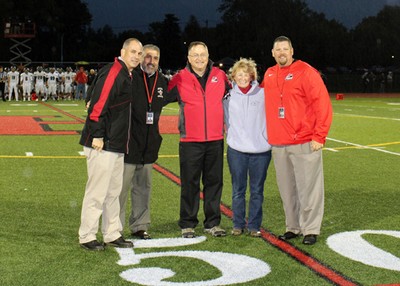 University and then went on to serve in the U.S. Air Force, earning a Master of Science in Aeronautical Science from Embry-Riddle Aeronautical University while on active duty. He retired in 2012 as Deputy Chief, C2ISR Operations Division, Director of Operations, Headquarters Air Combat Command leading a division tasked to organize, train and equip Command and Control Battle Management and Intelligence, Surveillance and Reconnaissance units for the Combat Air Forces. During his 23 year military career, Lieutenant Colonel Mullen accumulated 2,900 total flying hours, 150 combat hours and over 900 hours of combat support flight time. He has numerous military awards and decorations, including a Bronze Star and Defense Meritorious Service Medal.

"My job has always been about technology and what this school has right now is absolutely outstanding, and that's district wide – K through 12," said Lieutenant Colonel Mullen.

Since 1999 the HCSD Alumni Hall of Fame has inducted 46 members and honored them and their accomplishments with the installation of wall of plaques in the Hilton High School auditorium.

History of HHS Alumni Hall of Fame: The first Hilton High School Alumni Hall of Fame Selection Committee was convened in 1999. The Hilton High School Alumni Hall of Fame Selection Committee performs a review of each nominee's educational achievement; job-related achievements; honors and awards; community involvement; personal accomplishments; and/or any other appropriate qualifications that merit consideration.


Hilton High School 2006 Alumni Hall of Fame Members
Hilton High School 2003 Alumni Hall of Fame Members
Hilton High School 2001 Alumni Hall of Fame Members
Hilton High School 1999 Alumni Hall of Fame Charter Members